A long-standing non-profit corporation, Minnesota Bowhunters Inc, isn't endorsing Jeff Johnson according to its Facebook page, but it is touting Jeff Johnson swag in the form of arrow wraps.
The blog post hawking the arrow wraps notes:
Only one candidate for Governor has a concrete plan for legitimizing deer management in Minnesota.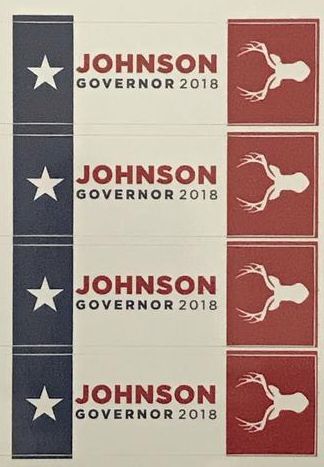 Only one candidate for Governor has his own arrow wraps.  

 

The wraps are available here.  BUY NOW

 

The link below shares Johnson's plan if he wins in November.  Check it out and get some wraps if you like what you see.

 
Click on the  BUY NOW link, and there's this:
Johnson for Governor Minnesota 2018

Jeff Johnson For Governor

Some of the core principles that guide my thinking on government and the issues:

http://www.johnsonforgovernor.org/

I believe that government can only exercise authority granted to it in the Constitution.
I believe that people make better decisions about how to spend the money they earn than government.
I support school choice and the empowerment of parents to control the education of their children.
I believe the right to keep and bear arms for personal protection is a fundamental individual right.
I am pro-life.
My Christian faith guides every decision I make.

Archer's, Help support Jeff Johnson for Governor in the great state of Minnesota.

IF you support Johnson for Governor $5.00 will be sent in your name to his campaign.
Arrow Tech Archery, the company offering to make the political contribution on behalf of buyers, is located in Cedar City, UT.
There's no disclaimer on the arrow wrap swag, so we question whether "Only one candidate for Governor has his own arrow wraps," as the Bowhunters' blog says. If these items are official, it's possibly a violation of Minnesota campaign finance law.
And those donations to Johnson's campaign "in your name" made by a private business--in Utah or anywhere? Possibly not allowed, either. However, since the contributions would slide under the amount that needs to be itemized, who's to know? (Unfortunately, the Minnesota Campaign Finance and  Public Disclosure Board's website appears to be offline as we compose this, so we'll have to update this post later when it returns).

Does the Johnson campaign even know about this scheme?
We've never seen other outdoors and hunting non-profit groups do this sort of thing.
Here are the screengrabs of the page offering the arrow wraps :
Screengrabs: Various screengrabs related to the story.
If you appreciate our posts and original analysis, you can mail contributions (payable to Sally Jo Sorensen, 600 Maple Street, Summit SD 57266) or use the paypal button in the upper right hand corner of this post. Those wishing to make a small ongoing monthly contribution should click on the  paypal subscription button.

Or you can contribute via this link to paypal; use email sally.jo.sorensen@gmail.com as recipient.