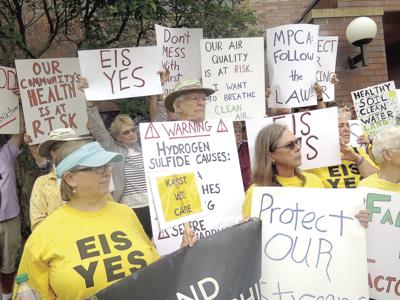 Earlier this month, Bluestem reported MPCA commish denies permit to Catalpa Ag; recommends study of nitrate-contaminated waters in SEMN karst region.
In Thursday's Spring Grove Herald, Lissa Blake reports in Catalpa permit denied MPCA commissioner urges additional groundwater studies:
Loni Kemp, who represents Responsible Agriculture in Karst Country (RAKC), a citizens' action group which opposed the Catalpa project, said while her organization feels Stine's decision is a "cause for celebration," they will continue their efforts.

"We're happy to hear Stine's intention to request a karst-wide look at groundwater pollution . . . We need to change our practices so we have clean water for our future," she said.

Kemp said she also knows the work of RAKC is far from over.

"We have three townships currently working on moratoriums and implementing zoning and two more are discussing it," she said.

She said RAKC will continue its efforts and be prepared for the fact Catalpa may still apply for a customized or individual permit.

According to the MPCA, the individual permit process is a more in-depth and tailored analysis that is more rigorous than the general permit Catalpa Ag had applied for. Farmers and producers in the region seeking permits for new or expanded feedlot operations could continue to seek individual permits while a regional study is underway.

. . . Hein said Catalpa has not yet decided if it will file for an individual permit.
We're pleased to see RAKC isn't planning to rest.
Photo: Rural people concerned about water quality in karst country.
If you appreciate our posts and original analysis, you can mail contributions (payable to Sally Jo Sorensen, 600 Maple Street, Summit SD 57266) or use the paypal button in the upper right hand corner of this post. Those wishing to make a small ongoing monthly contribution should click on the  paypal subscription button.

Or you can contribute via this link to paypal; use email sally.jo.sorensen@gmail.com as recipient.