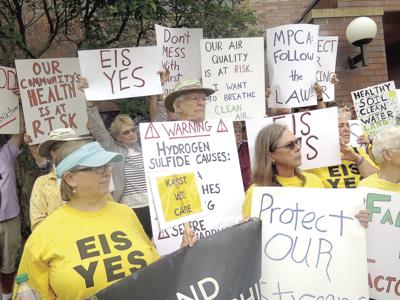 On December 18, 2018, Bluestem Prairie posted Breaking: MPCA commish denies permit to Catalpa Ag; recommends study of nitrate-contaminated waters in SEMN karst region, which included this passage from an agency press release:
Citing the need to address elevated levels of nitrate in drinking water in the karst region of southeast Minnesota, Minnesota Pollution Control Agency (MPCA) Commissioner John Linc Stine is announcing his decision to deny a general permit for the proposed Catalpa swine facility in Fillmore County near Mabel, Minn. Because of the permit denial, a related decision, whether to deny or approve requests for an Environmental Impact Statement (EIS) for this specific project is not needed at this time.
According to a recent email from Responsible Agriculture in Karst Country, Stine never followed through on the denial past the press conference:
Dear Supporters of Responsible Agriculture in Karst Country - 

Upsetting news: former MPCA Commissioner John Linc Stine misled the public in December when he announced he was denying the Catalpa Ag LLC general permit.

When asked for official denial documents including findings of fact, MPCA staff informed RAKC members that Stine merely announced his "intention to deny" the permit even though those were not his words at the press conference. 

Stine's press conference noted that Catalpa Ag would be allowed to "request coverage" under an individual permit but did not state they could withdraw their general permit before the MPCA formally denied the general permit by producing a written record. Thus, there is not a single public document laying out reasons for the permit denial. Stine has now left office. 

Since then, Catalpa Ag has reapplied under an individual permit, disregarding the concerns of hundreds of local farmers, families, elected officials and small business owners. An individual permit is rarely used, and theoretically gives MPCA more discretion in requiring additional studies and additional requirements. 

What does this all mean and how can you help?  

1. Help on the township level! Until the new MPCA Commissioner Laura Bishop and staff can clearly demonstrate that they are committed to doing business and communicating transparently and honestly with the public, we must rely on township level local control measures to keep our townships safe from harm. 

Township zoning can limit the size of industrial feedlots, protecting public health and responsible farming, no matter what the county and state allows. Local control means we can shape what is right for our townships. Consider volunteering to help these efforts put permanent controls in place. Contact your township supervisors to voice your support for local control of industrial feedlots. 

Email responsibleaginkarstcountry@gmail.com to help with research efforts, attend a study committee meeting, join/launch a zoning study committee in your township, and more. 

Check this public Google calendar for the next study committee meeting or township board meeting. 

Newburg Township's moratorium on dangerously large feedlots over 500 animal units continues, and the local committee is hard at work studying permanent zoning options.

Preble Township recently passed a moratorium on feedlots over 750 animal units, and is in the process of forming a zoning study committee.

Canton Township will skip the moratorium and is setting up its zoning study committee now.
2. The MPCA will release a draft of the Catalpa individual permit and announce a new comment period in the coming months. Be ready to make your voice heard yet again: We say Catalpa Ag must complete an Environmental Impact Statement or the MPCA must formally deny the individual permit.

3. Email, call, and tweet positive messages to the new MPCA Commissioner Laura Bishop about how you hope she will run the agency moving forward. This is a chance for the MPCA to turn over a new leaf under her leadership!Sample message: "Residents who work together as RAKC look forward to working with you to protect our health, groundwater, air, property values, and businesses. We need you to take environmental review of inappropriate, polluting industrial feedlots in our sensitive region seriously and order an EIS when the potential for significant environmental impact is demonstrated (as MN law requires). We also look forward to clear, transparent and timely communication with all MPCA staff members since we know you are working on behalf of us, the citizens of Karst Country in southeast Minnesota.
"Email: Laura.Bishop@state.mn.us
Office Phone: 651-757-2014
Twitter: @LBishopw<---
With gratitude,
The RAKC Board
We encourage readers to help the citizens of Fillmore County out, but Bluestem is skeptical that Bishop will pay much attention to the citizens' requests, regardless of the number of contacts they have with her or their civility
We could point our little, poor country blogger fingers at her corporate background or lack of engagement with citizen-based environment groups before her appointment, but that wouldn't put a finger on our concern here. Instead, it's a philosophy of governing on the part of her boss.
In New environment commissioners talk climate change, water quality, Minnesota Public Radio's Elizabeth Dunbar reoprted:
. . . Walz mentioned climate change when he introduced Bishop as the state's new MPCA commissioner, saying failing to address it would be irresponsible and would hurt the state's economy. But he added that state agencies need to do a better job working together with industry to find solutions to environmental problems.

"Regulatory humility," he called it. And went on: "That doesn't mean not doing our job, it means approaching these businesses with the spirit of what can we do together to make sure we have a safer, more sustainable planet, and you're still able to make money, prosper and create jobs."

Walz says that attitude also applies to agriculture. There are still hard feelings among farmers about how outgoing Gov. Mark Dayton's administration rolled out new regulations on buffers and fertilizer.
Walz reaches for this catch-phrase regularly. In the first-post primary debate, he said:
In terms of regulation, Walz said he would be in favor of "regulatory humility"—or, assuming the businesses and corporate entities are compliant, so as to carefully dictate when government gets involved in commercial affairs.
And a week ago, Finance and Commerce's William Morris reported in Walz calls for cooperation at Minnesota Chamber event:
On stage Wednesday at least, Gov. Tim Walz and the Minnesota Chamber of Commerce appeared to be thinking entirely in harmony.

Walz, who headlined the chamber's annual Session Priorities conference in St. Paul, said in an interview with chamber President Doug Loon that government needs to listen and collaborate more with businesses, and to "reset" conversations between government and business groups that have often become contentious.

"When you come to government, and you talk about onerous regulations, or you talk about burdensome things that have been put on you, we as government need to not see you coming to us as trying to get around something because you don't care about worker safety or environmental quality," Walz told roughly 2,000 attendees. "You're bringing those things up because you feel they're not effective and they're burdensome and costly to your business without improving the lives of workers or the environment."

Walz struck a decidedly pro-business tone in his remarks, even musing about possibly downsizing or consolidating some of the more than 20 state agencies under his control. Although he did not name any specific cuts when asked by Loon, he said the government needs to be more responsive in administering existing regulations, and more cautious when imposing new ones.

"These agencies need to come to you with regulatory humility, to build [regulations] together," he said.
For more background, read:
The unbearable humility of regulatory capture: Walz set to erase years of work on buffers
Former Dayton senior policy advisor rips Walz comments on buffers & "regulatory humility"
Walzspeak: "Regulatory humility" rooted in ideology advanced by conservative think tanks
Perhaps those words about working using "regulatory humility" with "these businesses" don't mean what they appear to mean. However, Walz uses the conservative think tank coined phrase often enough that we'll take his word for it.
Photo: A sign of the times in Fillmore County.
If you appreciate our posts and original analysis, you can mail contributions (payable to Sally Jo Sorensen, 600 Maple Street, Summit SD 57266) or use the paypal button in the upper right hand corner of this post. Those wishing to make a small ongoing monthly contribution should click on the  paypal subscription button.

Or you can contribute via this link to paypal; use email sally.jo.sorensen@gmail.com as recipient.